Thursday, November 29, 2007
Enterprise Architecture: Ten Reasons why Outsourcing tends to fail...
Figured I would outline ten reasons why I believe outsourcing fails in hopes that others won't repeat the mistakes of others...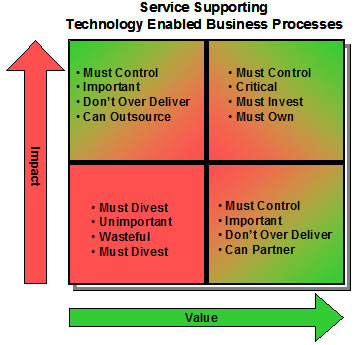 Cost-reduction expectations


The notion of rate arbitrage where the sole reason you outsourcing is to gain cost savings simply isn't sustainable. As the US Dollar declines while currencies such as the Rupee increase, this will most certainly wipe away any strategy based on rate exchange.


Data security/protection


The ability to apply a thoughtful security architecture within any large enterprise is challenging where all the data is in the data center as well as all employees are physically in the same building. If your protection mechanisms are based on a firewall alone and you are required to poke holes in it, then you will probably leak data in an outsourcing context. Likewise, if you are doing software development and aren't mandating code review (distinct from code acceptance) then the ability for someone offshore to interject insecure code rises exponentially.


Process discipline (CMM)


Let's admit that the processes needed to utilize hundreds of new resources who have only a handful of years in IT at best are wildly different than processes required to make an organization successful where every two minutes you can bump into someone with twenty years of experience. The right answer isn't necessarily to force CMM-like heavyweight processes on folks who don't require it as this will result in frustration, additional unnecessary costs and almost always guarantee mediocrity.


Loss of business Knowledge


I had a conversation with an Architect at one of the Healthcare Insurers in the area. In the same conversation, they talked about the notion of Business/IT alignment while in the same breadth acknowledged that IT knows more about how the business works than the business. Consider the simple fact that in most enterprises, there is no one that could write a specification to reconstruct a system with all the complex business rules and come up with the same output.


Vendor failure to deliver


Sad to say but vendors do periodically not deliver. You have to ask yourself why does this occur? If your business model is based upon growing headcount where it is not necessary about productivity but all about increasing billable hours then you may run into lots of problems. Sometimes customers need to ignore the sales pitch and acknowledge that experience does matter. A politically incorrect analogy to the way most but not all outsourcing works is attempting to get nine women in a room to make a baby in one month.


Scope creep


The problem here is from the lens of the vendor, scope creep is rampant. From the eyes of the enterprise, we need to acknowledge that it is impossible to write a specification for every possible scenario upfront. In some sick sense, we call this behavior scope creep while in reality the solution may be for us to truly figure out agile software development and how to iterate better.


Government oversight/regulation


Want your intellectual property stolen? Consider the simple fact that you need to know what is IP and what is not. The laws in the US afford enterprises lots of protection where as laws in countries such as India and China aren't quite the same.


Culture


When us American's speak to folks across the pond in the UK, we sometimes have misunderstandings even though we all speak English. Many folks tell me that even though they understand every word I say, they don't understand anything that I have said. Consider that specification alone does not make an IT project successful. Are you of the belief that if someone understands the problem from a consumer perspective that they may be able to deliver better results? For example, imagine the business need to sell Rum over the Internet where having the right experience for the consumer is vital. Could you predict that even with bad requirements, the odds are improved by having someone in Trinidad or Jamaica develop it over someone in say Saudi Arabia?


Turnover of key personnel


Good people want to work with other good people and outsourcing removes this as a possibility. Imagine if I had the opportunity to work with individuals such as Scott Mark, Todd Biske, James Robertson, James Tarbell, Daniel Bernier and others, then along comes outsourcing where we don't get the opportunity to sit face-to-face but instead get replaced by conversations that are a whole lot more one-way, introductory in nature and less rewarding. Would you expect good people to hang around?


Knowledge transfer


I can do lots of knowledge transfer on many things that I know, but none of it will make up for actual hands on experience...

|
|
View blog reactions