Saturday, November 04, 2006
The 451 Group: Innovation Summit
Last Wednesday, I served on a panel at the
Innovation Summit
sponsored by industry analyst firm
The 451 Group
and figured I would share my thoughts...
I have normally avoided attempting industry analyst conferences as I have always been of the belief that there is more value in hearing the case studies directly from end users over listening to anonymized overly sanitized delivery from some industry analyst. The 451 Group unlike their larger counterparts achieved the right balance in having their own guys present vs having real-world folks also share their thoughts.
Prior to joining a large enterprise I had the opportunity to work on several Internet startups including Wingspan Bank, Lowestloan and Carbonek all of which are now defunct. It has been a long time since I have used the term exit and other VC-oriented words and it took awhile for me to have total recall. Interacting with startups is something that enterprise folks should do more often. The opportunity to learn about solutions to business problems before they show up in quadrants and waves could actually lead to competitive advantage.
Anyway, the session I enjoyed the most was the panel with the guys from Progress, EMC and Microsoft who buy small software companies. Hearing the perspective on how they place values on companies in terms of revenue, the value of talent and when to simply walk away from an idea was enlightening. In fact, I need to figure out if I could get one of these three guys to provide a VC perspective to our enterprise architecture team at work. We could learn a lot from this community.
The panel I served on was with Chris Swan of Credit Suisse. I would encourage other conference chairs to invite him to their panels as he is pretty smart. It is intriguing that both of us are attempting to solve for the same problem space at the same time. Within their own enterprise they are also paying a lot of attention to the XACML specification, something that I have also observed is on the radar of folks from Goldman Sachs, State Street, Bank of America, Citigroup, JPM Chase, Verizon, Qualcomm, Merrill Lynch, Washington Mutual, Liberty Mutual, Aetna, Mass Mutual and other enterprises who understand that security is not only an infrastructure-level concern but also that security needs to be considered within the context of enterprise applications. I wonder if the 451 Group will start coverage on application-level security considerations for large enterprises?
At the conference I ran across many bloggers whom I read with passion. Could to have met Dan Gordon from Valhalla Partners in person. I also appreciated talking face to face with Raven Zachary whom I challenged to produce a report outlining research of enterprises who contribute to open source software whose primary business isn't technology. We all know that open source isn't just about software vendors anymore, so hopefully we can get a more accurate perspective on the corporate adoption of open source (CAOS).
Anyway, one of the more intriguing conversations I had was with the many vendors in attendance who were keenly interested in why I would consider attending a 451 Group conference. The answer to this question is simple. If you are smart, add value and like to be open, you will be on my radar. If you are arrogant, closed and simply want to brief me without a two-way dialog, then you will get kicked to the curb.
I have never seen so many vendors say so many positive things about an analyst firm. Maybe the 451 Group has reached a level of maturity that other analyst firms should strive for. Maybe I could convince William Fellows to have a conversation with James Governor of Redmonk and Brenda Michelson of Elemental Links about a merger. This combination of analysts would be invincible.
One of the more disturbing conversations I had not once but twice was several vendors perspectives of Gartner. Pretty much everyone was in agreement that they felt paying the Gartner fees was more like a tax and a necessary evil than of anything that provided real value. Many folks mentioned being forced into quadrants that simply didn't make sense for their product while others were torqued in terms that the notion of relationship seemed way too one-sided.
I did inquire as to what vendors thought of Forrester, IDC and the Burton Group and got a perspective that may change my own. Pretty much everyone felt that for their money, Forrester provided more value than the other players yet of equal complaint was the fact that they really needed the analysts to make themselves more available. Burton Group seems to be growing in terms of mindshare in the marketplace but hasn't yet crossed the marketing budget chasm. Everyone felt that the Burton Group would cross pretty quickly as they noted that I am a big fan of the security folks there. Likewise, it seemed as if no one had any interaction with IDC which I thought was curious.
The one takeway that I have is to ask every single vendor that constantly rings my phone at work, whether they have a relationship with the 451 Group. If not, they can expect two things: first a strong push to start one and two, the pleasure of me transfering their calls to Mr. Dialtone if they don't listen...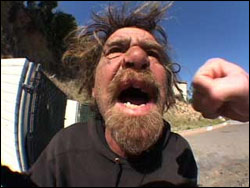 |
|
View blog reactions