Wednesday, May 03, 2006
Conferences: InformationWeek vs. Infoworld
It is getting more difficult for enterprisey folk to get approval from their management (distinct from leadership) the ability to attend industry conferences. If they are going to make the choice, it should include more than just deciding on who the speakers are...
Having recently attended the
InformationWeek Spring Conference
I have finally realized what a world-class conference should feel like. It is not only about great speakers but also has to do with the ability to network with other attendees who are also of high quality. I was happy to have received a list of other attendees at registration time so I knew who to be on the lookout for. This improved my ability to network ten-fold as it removed much of the randomness that would have otherwise occured without it.
Many folks know I love to eat and therefore quality of food is extremely important. I have been to conferences that have served box lunches filled with turkey sandwiches and a bag of chips for lunch. I won't mention which conferences do this, but this is awefully weak! The InformationWeek conference had world-class food for lunch. One meal was a USDA Prime steak that was of the same quality as
Mortons
and was served with Asparugus tips, Salad with imported Italian Cheese I cannot pronounce and for desert was Creme Brulett.
On top of that, some conferences feel an obligation to serve only lunch where InformationWeek also took care of dinner which was of even higher quality. I normally am a big fan of conferences put on by
Marcus Evans
but they where one-uped here. The
Infoworld SOA Executive Forum
will be coming up in New York City in May which seems to be a must-attend event. Would love to know from other bloggers what type of meals do they historically serve?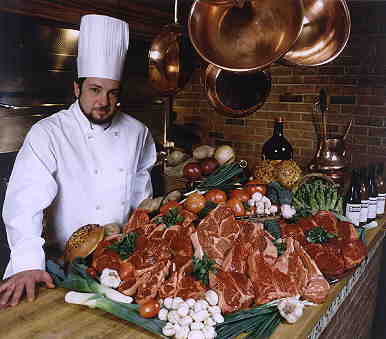 What was really cool at the InformationWeek is throughout the entire day, they sponsored two different massage therapists where you could get chair massages. The ability to be relaxed while attending a conference cannot be stated as importance enough. In terms of the costs for doing such a thing vs. its return, I would encourage all conference chairs to emulate this move for their own events.
Likewise, InformationWeek did a great job of not only taking care of attendees during the day but did an even better job of taking care of them after business-hours. One night, we had a hypnotist that put on a pretty good show. The only other conference in my travels that even thought about after-hours entertainment was a storage and networking conference I attended several years ago sponsored by
ComputerWorld
where they had the Comedian Sinbad provide entertainment.
In closing, one of the things that InformationWeek did that was of such high class that was icing on the cake occured after I returned home. We have all attendeed conferences whereby photographers are running around snapping pictures of the attendees and the folks on stage. Ever thought to yourself how their photos came out? Well, InformationWeek sent each conference attendee a photo album with the pictures in them...
In May, I will be attending the
Infoworld conference
and in June the
Enterprise Open Source Conference
where I not only hope to blog out my experiences but will attempt to compare them to the InformationWeek conference. Stay tuned...
|
|
View blog reactions