Saturday, January 21, 2006
The Knowledge Crisis within Corporate America
I am no longer alone in the blogosphere. Another architect from a Fortune enterprise with a wonderful first name has also joined. For industry analysts and software CTOs that cover the enterprise architecture, knowledge management and business rules space, you should add him to your blogroll.
The one thing that is almost never seen in the blogosphere is that one truly never gets to observe debate between two individuals who have more than professional respect for each other. You of course will see debates between industry CTOs that work for different software companies but never within their own company.
As individuals, I can tell you that we respect each other and that this is not given but earned. It is valued between both of us because we have open dialog both in public and private and we collectively believe that real honest insight emerges when two individuals have differing believes. In other words, success is in the mix.
For the most part, I will more than likely agree with his thinking but, don't be surprised if in the future I go on the attack. We grew up in towns that have had a long held rivalry (I am a Warhawk and he is a Warrior) and may at times appear to go back to these days. Blogging should be all about transparency and information sharing in a non-marketing department approved way. We have neither nothing to sell nor nothing to hide.
Imagine if industry analysts actually practiced pointing out discrepanies in each other's work? Do you think us customer would love to observe the dialog? Do you think our knowledge would grow even faster? The lack of meaningful dialog within the blogosphere is causing a knowledge crisis. We would be equally guilty if we participated in this commonly practiced form of insanity.
I can't wait for the day when an analyst from Radicati or Ovum in their blog points out why they believe
open source analysis
may not work, or if an analyst from ZapThink,
Patricia Seybold
or Yankee Group starts to ask for more pressing dialog from if software vendors start using the blogosphere to settle internal debates on product direction and allow the community to provide their own perspective...
Anyway, his blog is named
Knowledge Crisis
. Please check out not only his first couple of posts, but don't hesitate to leave comments. The blogosphere is a two-way dialog and I encourage you to engage in one with him...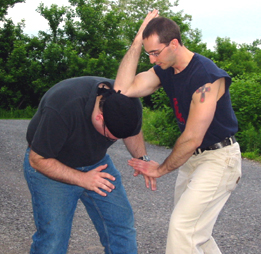 |
|
View blog reactions