Thursday, November 24, 2005
Thoughts on the WISE 2005 Conference
On Monday, I attended the
WISE 2005 conference
in New York City where I had the opportunity to serve on a panel with industry thought leaders from Fair Isaac, IBM, Metastorm and MValent. There were several outstanding presentations that I wanted to enlighten you on...
There were several topics that were interesting to me. The one presentation that I wish I had the opportunity to go deeper into was on the subject of text mining. Corporations are starting to get very creative in their usage and desire to understand unstructured data. Using a text mining solution can assist them with this problem space. Would love to receive papers from academia on folks working in this space and will assist in applying a corporate view to their research.
I had the opportunity to sit in one presentation on how services could collaborate with each other. The speaker talked with passion and had some pretty good thinking on SOA. He even created an implementation of his idea. I didn't get the opportunity to ask him whether he would consider porting some of his thinking into what is becoming my new favorite enterprise service bus (ESB):
ServiceMix
. NOTE: I also like
Mule
but am torn.
Note to myself, need to make sure that Gartner includes both open source projects into their magic quadrants...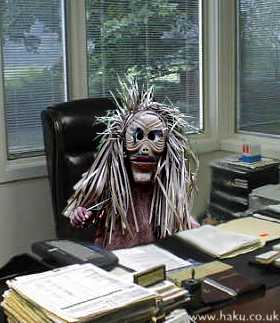 Anyway, back to the panel. Since the conference was filled with folks from academia, I of course couldn't miss out on the opportunity to share my own thinking on things they should be spending time researching. It has always bothered me that academia is so excited about the semantic web yet I cannot find a single enterprise architect in a Fortune enterprise that has even spent one iota of time noodling it. This to me indicates a fundamental disconnect between academia and corporate America.
If I were King of all universities and the computer science programs that they host, I would task researchers to start thinking even deeper on the following subject areas:


Service Oriented Architectures: Figure out how to connect business to IT not just defining new methods for connectivity or specifying how services should communicate with each other


Enterprise Architecture: Many folks in other enterprises are headed in the wrong direction as they approach this subject in terms of a process. Likewise, industry analysts and the folks at various magazines talk only of tools. Need to get folks to understand that people, process and tools in that order is how EA should be approached.


Social Networking: It has occured to me that an enterprise can learn from the Internet about emerging trends but no one has tied it all together. The notion of six degrees of separation is great and has been successfully implemented by the folks over at LinkedIn but hasn't been connected to other sources of information such as blogs. I not only am interested in who knows who but what they are talking about...


Federated Identity: Suroop Mohan Chandran and James Joshi did present a good paper on incorporating location and time-based RBAC models but didn't connect it to the real-world problems that corporations face. Would love to see them take their research deeper and integrate it with the thinking of the folks over at the Burton Group. I wonder if Jamie Lewis would be game to share Burton Group research with academia?


Business Rules: Folks have done enough research on reuse from the perspective of components, objects and even services but no one has published anything of quality on reuse of business rules. Everyone in the business rules community is clamoring for it yet the so-called thought leaders in this space don't know much about architecture. There are tons of opportunities for researchers to dive deeper into this space.


|
|
View blog reactions